Independent

sales representatives company
Sales représentatives company in South-West of France
E
veryday, our sales representatives, animators and merchandisers crisscross the roads of southwestern France to develop your turnover. We are visiting every stores of our area which is south-west of France. Here are the categories of stores we are acting on, DIY (do it yourself) stores, PPE stores, and industrials parts distributors.
Since 1994, we are providing you, our expertise and notoriety as french sales representatives as well as our knwoledge of those specific market. We are guaranting our partners, a maximum of visibility and penetration rate. Your clients are well followed and we make sure to explain them correctly the advantages of your product and its specificities. Also, once you add news in your product range, we make sure to give, samples, and every usefull marketing supports you gave us. See our services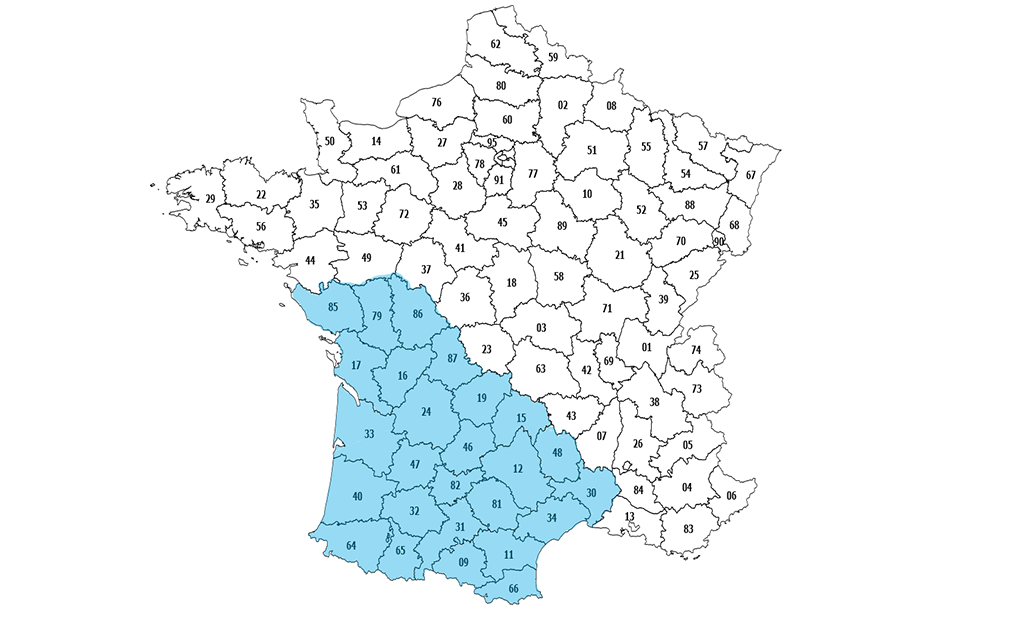 Jean-Christophe GUEUTIN
C.E.O

Michael LINA
Associate sale agent
Phone:+33(0)6.75.43.71.74

Laurent LANGLADE
Associate sale agent
Phone : +33(0)6.79.25.24.26
Adrien GASSO
Sale agent
Phone : +33(0)7.85.77.86.56
Gurkan GUNAY
Sale agent
Phone : +33(0)6.47.74.04.09
Lucille Martin
Sale adminitrative
We've start working with Go Distribution, on the recommandation of one of our agent. They quickly understood how to sell our products, and due to their work, today we are proud of our penetration rate.
Friendlyness, reactivity and proximity with retailers, those are the 3 words I'd like to use to describe Go Distribution. They quickly learn the key success factors, to sell our products and handle our retailers.
It's been a long time since we collaborate with Go Distribution sales agency. We do have excellent communication and relashionship. I warmly recommend this excellent partner.
Articles and news relative to commercial agent job
Our team of commercial agents, merchandiser and marketing.
L
eading sales representatives company in South-West of France, our sales representatives are driving across the road every day in order to keep very clause relationship with partners such as retailers and stores owner. We are acting in cities such as Bayonne, Dax, Bordeaux, Limoges, Agen, Toulouse, Pau, Brive-la-Gaillarde, Angoulême et La Rochelle.
What is sales representatives job consisting in ?
The first mission of a sale representative is meeting and maintaining good relashionship with decision makers, buyers, and every person in charge of building product ranges in stores. Most of the time, we are also take care of every merchandising and operationnal marketing aspects. We are visiting every store, the biggest but also the smallest.
We can propose animation and marketing
Are you thinking about externalising your marketing or your animator ? Do not hesitate to call us, so you can explain your needs and we can start building a strategic plan.
Come meet us
Put your mouse over every blue cross
to meet some of the nice elements composing our team.
Why should you consider about externalising your sales force?
Externalising sale force represent will bring you a lot of benefits. Doing this, you stay focus on your strategy, or your production, we will take care of sales, retaining clients and managing our team.
Since we are often paid on a commission basis, ther is no upfront investment of money and effort. We will be paid as your company is.
We are working with a self-developped software, so we can share with you information, and keeping you informed about whatever as been done since we start collaboring together.
For more information, feel free to call us (preferably Michael LINA) or write us an email. We will get back to you in the next 72 hours.

Laurent Langlade
Sale Agent / Animator
On the road since 15 years, he is also in charge of managing our sale team. He likes rock music and pizzas.
+33 (0)6 79 25 24 26
Adrien Gasso
Sales agent
He is the last one who jumped onboard.
He likes rugby, chilling under the sun, having a second service when he is eating and is electronic cigarette.
+33 (0)6 65 63 08 48
Jean-Christophe GUEUTIN
CEO
He likes : his job, traveling, his iphone, and golfing.
If he invites you for golfing, you hsould remember, not to make any noise while it is his turn for playing (he need to focus)
Michael Lina
Sale Agent associate
He jumped onboard 6 years ago, he brought us the international dimension we were looking for.
He "loves" bugers, fishing (even if he never catches anything) and burgers (again).
+33 (0)6 75 43 71 74
Lucile Martin
Sales assistant
She like her childs, and spending time in her beautiful house situated near a very nice forest. She likes walking, canyoning, and reading while listening music.
+33 (0)6 75 43 71 74